It's been a while since I got a chance to blog, but we've had guests over quite a bit over the last couple of weeks, and blogging while I should be playing host makes me feel like a very bad person.

To update:

The Grandmother's Fan top is completely pieced. YAY! I just have to pick up the batting and decide on a back. I'd like to do a back from a single fabric. This means ordering something online, because it's measuring in at about 90 X 90, according to the math. I haven't actually measured yet. I need to get enough clear floor to do so.

I also need to take a photo of this top - I did take one about a week ago, but looking at it made me realize that I'd put two of the rows on in the wrong order, so the quilt wasn't symmetrical the way I'd intended.

I have completed all of my nine patches for the
quilt-along
. I still have to photograph the blocks and post them to the
Flickr pool
. This puts me well ahead of the deadline to have them done. I need to take a look at the photos of the completed quilt and determine how the sashing was done to continue to proceed. I don't think I want to wait for the deadline.

And... I have completed ANOTHER quilt! That's TWO in two(?) months!! I'm so excited. This one was Flying Geese I. I love, love, love the colors in this quilt top. Hands down, it's my favorite as far as color scheme. There were so many things wrong with the piecing - it was the first top I'd pieced completely on the machine. There were so many things I didn't know! This particular quilt was a learning effort from beginning to end.
What I find interesting about the photographs is that the stripe fabric washes out whenever I take a photo of the full quilt. If you look at the second photo, of the detail, it's a far more accurate representation of the colors.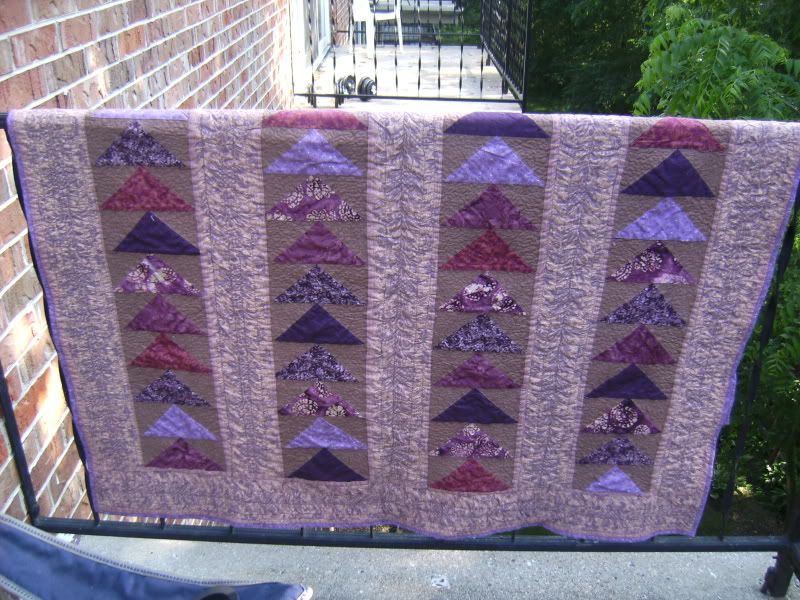 I'm just super pleased lately with my quilting efforts. I've fallen in love with quilting all over again since the beginning of the year.

This Friday, I have to get to Joanns and spend some money on myself. They got some absolutely delicious red and black fabrics in that just make me drool. There's two or three fabric that I have to get two or three yards a piece of. Thank goodness this weekend is their Firefly sale, and I have several coupons for 50% off.